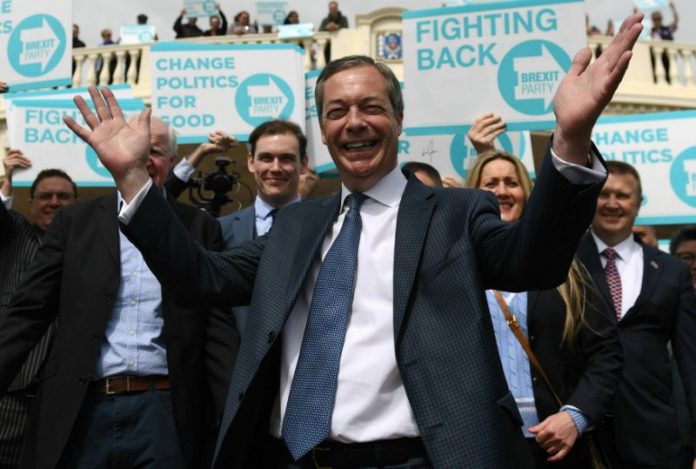 The Brexit Party still doesn't have much in the way of policies. It's hard to focus on such matters when there are elections to be won. But surely, after the Peterborough by-election next week, the hard work must start. Come a general election, even if it is yet another Brexit election, a lot of us Leavers will want to know more.
The Party's challenge is to walk the tightrope that will keep the Leave coalition together. This includes those who voted for Brexit "to fix a broken Britain" and who would welcome higher state spending, alongside those who voted to escape Brussels and bureaucracy and who would like to see lower taxes and a smaller state.
How to keep everyone happy? If I was in charge of policy for the Brexit Party I would dodge the bullet by committing, in the medium term, to fiscal neutrality. Taxes will be cut only if we can find ways to drive down spending. Crowd-pleasing spending will only happen if we can cut spending elsewhere. The exception to this will be those insane areas of tax policy where we could actually drive up tax revenue by cutting tax rates – creating a win-win all round. Apparently high rates of Stamp duty is one of these areas. The fact that the May Government did nothing to rectify this and literally lost revenue, which meant lower spending on worthwhile projects, while trapping some people in homes they did not want, while other people desperately wanted them, is a classic example of its ineptitude. It was a rare example of a lose-lose-lose-lose.
Nevertheless a commitment to fiscal neutrality leaves room for manuoevre. Here are three options for better use of taxpayers' money which should all be welcomed by Leave voters.
Firstly, there is a strong argument for cutting back on Overseas Aid – at the very least scrapping the legislative requirement to spend 0.7% of GDP on it. In 2017 we spent £14 billion on overseas aid. That was an increase of £682 million on the previous year. We didn't decide as a nation that there were £682 million of worthwhile new projects to spend money on. We made that increase because of the legislative requirement to meet the 0.7% target. We had to go out and find the projects to spend the money on to meet a target. In 2013 a YouGov poll found that 66% of people wanted overseas aid spending decreased. In a 2016 poll, support for the 0.7 per cent of GDP target stood at only 24 per cent. In 2018, the Daily Express ran a campaign that found that over 80 per cent of people thought foreign aid spending should be diverted towards the NHS. The Taxpayers Alliance are monitoring the waste and ineffectiveness that are part and parcel of target driven aid spending. Looking ahead, in order to continue to meet the 0.7% target, we're going to be spending another £1 billion by 2022.
It's hard to justify spending this amount of money on foreign aid when opinion polls reveal that it is not widely supported by the public. Partly because they suspect that it is often not well spent. And partly because there are urgent problems at home.
If we did re-focus at least some of our aid budget, what should the Brexit Party prioritise? Two good candidates are schools funding and Universal Credit.
School funding increased dramatically over the 2000s. But so did the obligations placed on schools. It is no longer acceptable for any child to be quietly left to drift. Schools are expected to be able to track the progress of every child and every cohort of children – and explain where and why the school is behind the pack on results. That is absolutely right – but it requires an intensity of focus and resource that many schools a few decades ago would not have contemplated. According to the Institute of Fiscal Studies, spending per pupil is expected to fall by 6.5% in real terms between 2015–16 and 2019–20. In Hammersmith & Fulham where I was a local councillor between 2014 and 2018, every school head I met was concerned by the loss of funds. So was every teacher. As far as I could make out, it had not escaped the notice of many parents either. Many rural schools currently get an even rawer deal, relatively speaking – something that all the main political parties have recognised. Addressing this latter fact, as well as the overall level of declining funding, would be a smart priority for the Brexit Party.
The second area is Universal Credit. Between 1 April 2018 and 31 March 2019, the Trussell Trust's food bank network distributed 1.6 million three-day emergency food supplies to people in crisis. This was a 19% increase on the previous year. According to my local Foodbank in Hammersmith & Fulham a large part of the problem has been the "Five Week Wait" for claimants to get their first payment. In November, the Conservatives cut the waiting period and ploughed extra cash into the scheme – all to be welcomed.
The Sun newspaper has run a high profile campaign supporting the concept of Universal Credit but calling for further reform. As well as demanding changes to the waiting period, the newspaper called for working recipients to keep more of what they earn in order to better reward people trying to work their way out of hardship. They also called for childcare costs that working parents can claim, to be paid up earlier. These are highly targeted opportunities to support the least well-off in our society who are also trying to support themselves.
Total school spending is in the order of £40 billion. In 2017 the Government spent around £110 billion on non-pension welfare payments. Our £14 billion from the aid budget doesn't sound like much in comparison. And then there are other problems and priorities – like our aging population. But there are other revenue raising opportunities too – like that reduction in Stamp Duty. Or that sum on the side of a bus? Some of that too.